From non-payment to enforcement – where do you begin?
By David Asker on
When your business works with multiple clients and sends out a high volume of invoices every month, it can be easy to overlook acting on a delayed payment straight away, especially when you don't want to damage a client relationship.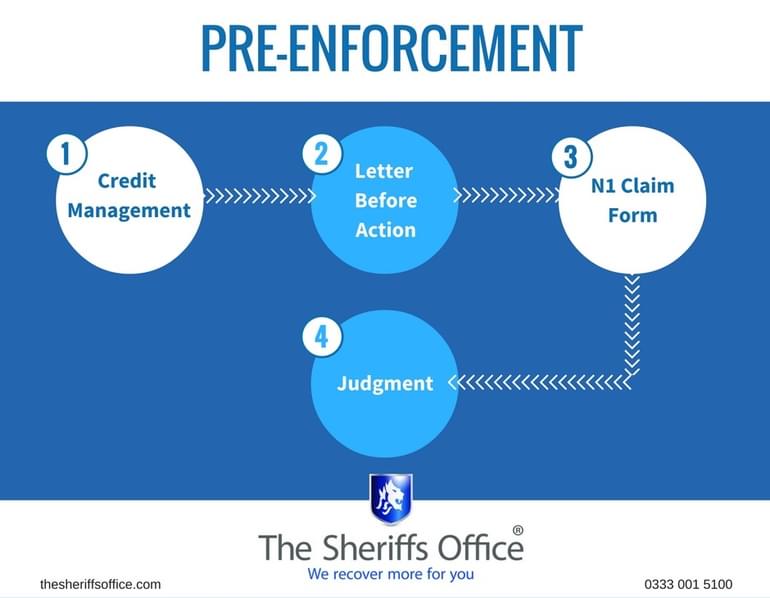 Unfortunately, sometimes enforcement action is necessary. This article gives an overview of the process from non-payment through to enforcement.
Pre-enforcement
You should act quickly once an invoice becomes overdue and immediately initiate your internal credit control and escalation procedures. Timely action is essential, if your customer is not paying because they have cash flow problems, the longer you leave chasing, the less likely they are to have assets remaining that can be seized in enforcement action and sold to pay the debt.
If your internal credit management protocol fails to encourage payment, the next stage is to issue a Letter Before Action (LBA). In a LBA, you will confirm the exact amount of monies owed by the debtor and give a formal warning that if payment isn't received by the date requested, usually within 14 days, then you will commence court proceedings which will include a claim for court fees and costs where applicable.
Obtaining a judgment
If you still haven't received payment within the set period, you will need to start a claim before taking your case to court.
The court will expect you have attempted to resolve the dispute before making a claim. The Ministry of Justice website explains the expectations and the pre-action protocols already in place.
A claim is made by completing an N1 form on Money Claim Online (MCOL), which is a service provided by the Ministry of Justice.

If the debt is for a significant amount of money or has complexities, we would recommend you seek legal advice and instruct a solicitor to ensure there are no errors that could delay action.
A copy of the claim and a form will also be sent to the defendant (the debtor) to respond to. If they respond with a defence then the case will be transferred to the debtors' local county court for a hearing.
You will be awarded a County Court Judgment (CCJ) in 28 days if the judge rules in your favour or the defendant has either ignored or admitted the claim. If the debtor still does not pay within 14 days from when judgment has been awarded, you may begin enforcement action.
Enforcing a judgment
A CCJ can be enforced either by a County Court Bailiff (CCB) or a High Court Enforcement Officer (HCEO). If the value of the judgment is over £600 (including court fees), we recommend transferring it up to the High Court for enforcement by a HCEO.
HCEOs work under a writ of control which allows them to attend the debtor's property to take control of goods which can be sold to satisfy the debt, should the debtor still refuse to pay.
Instructing a HCEO is easy and can be done online. You will need to provide details of the judgment, a court fee for the writ and as much information as you have about the debtor. As HCEOs, The Sheriffs Office will apply for the writ on your behalf, at no cost to you.
The HCEO will recover the debt, court fees, interest and enforcement costs from the debtor, again, with no cost to you. In cases where enforcement is not successful, for example the debtor is bankrupt, cannot be found or has no assets to seize, all that is payable is a compliance fee.
HCEO or CCB?
HCEOs have more power than CCBs and have a higher success rate. HCEOs are authorised by the Lord Chancellor and work privately or in private companies. HCEOs enforce outside of regular working hours, including weekends, and, other than the compliance fee, a HCEO will receive no income if enforcement is unsuccessful, unlike CCBs who are salaried civil servants and work to standard working hours.
Due to the limitations and work loads of CCBs, it can take much longer to begin enforcement which isn't ideal when you require prompt action.
Overall, our clients find that High Court enforcement is the most cost effective and successful method of recovery, compared to using CCBs.
David Asker
David is an authorised High Court Enforcement Officer and our Director of Corporate Governance