New debtor app launched
By David Asker on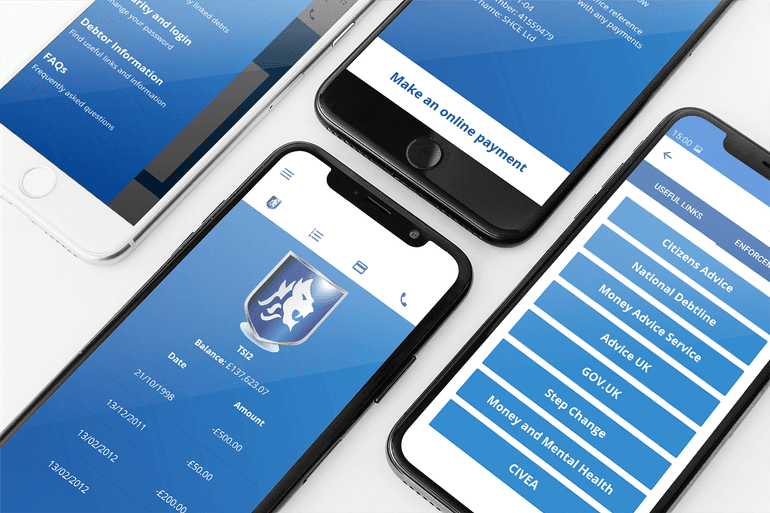 Our new debtor app has now launched. This app has been designed by our in-house team and gives debtors a quick, easy and user-friendly way to manage their debt. The app connects directly to the payment portal giving debtors another way to make payments.
Stores it is available on
The app is available in the Apple Store, Google Play.
The app is able to send notifications directly to a debtor's mobile to remind them about up and coming payments. The notifications have a bespoke reference code meaning the payment is allocated to the debtor's account.
Signing up to the app
The debtor is required to input their case reference number to register, and once registered they'll need to verify their email to access the account.
Colour coding status
The app has a colour coding with green for accounts where payments are up-to-date and red for those with payments overdue.
An overview in one place
The app gives details on the following information
The total amount owed
Payment arrangement details
Total outstanding balance

If the debtor has more than one case with The Sheriffs Office then this case can easily be added by the debtor if they input the case reference number. This will give them a full overview of their debts in one place.
Advice and guidance
The app incorporates several links to debt advice organisations that go directly through to sources of information offering advice and guidance, should the debtor need to access this.
Privacy and GDPR considerations
The app has been built with GDPR and privacy considerations in mind and this means the data stored comes directly from the initial letter we send out.
We don't record the user's location and any additional information that is input by the debtor will be stored separately from the case management system.
Updates
There are planned updates and enhancements for the app and these will take into consideration user experience and feedback.
David Asker
David is an authorised High Court Enforcement Officer and our Director of Corporate Governance