Enforcement Conduct Board Accreditation
By David Asker on
The Sheriffs Office (TSO) is committed to delivering fair and effective enforcement with integrity throughout England and Wales. That's why we're Enforcement Conduct Board (ECB) accredited, increasing our accountability and maintaining higher standards for all concerned.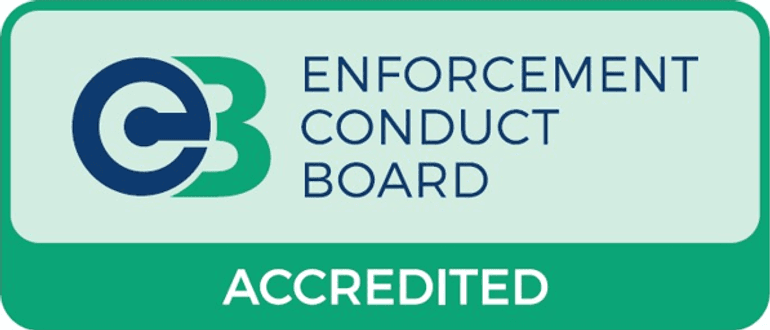 What is the ECB?
The ECB was established in November 2022 to ensure that everyone across England and Wales experiencing enforcement action is treated fairly by enforcement companies understanding good practice.
It has been created with agreement between the civil enforcement industry and leading debt advice charities. It operates independently of both the industry and the Government and fulfils the need for a balanced and evidence-based oversight organisation.
What is the ECB accreditation?
The ECB's accreditation scheme establishes oversight of enforcement work and promotes accountability. Accreditation is renewed annually, and the criteria may evolve over time. The first year of the accreditation scheme opened for applications in September 2023.
Year one accreditation criteria
Compliance with Ministry of Justice National Standards
Submission of Quarterly Data Returns
Providing information upon request
Timely payment of the levy supporting ECB operations
Accredited firms commit to:
Increased accountability
Striving for higher standards
Funding an independent oversight body for enforcement
In the first year of accreditation, the focus is on developing robust standards and an oversight model for future benefits. Accreditation allows TSO to publicly commit to high standards and accountability. It benefits creditors by ensuring they contract with an ECB-accredited organisation, as some creditors have pledged to work exclusively with ECB-accredited entities.
The establishment of the ECB signifies a crucial advancement towards fairness and accountability in enforcement across England and Wales. TSO's pursuit of ECB accreditation underscores their existing strong commitment to efficient enforcement services while upholding the highest standards of conduct.
As the ECB's accreditation scheme evolves, it will continue to ensure transparent, fair, and principled enforcement practices, advancing a more responsible enforcement landscape in the UK.
Read the full list of accredited organisations.
David Asker
David is an authorised High Court Enforcement Officer and our Director of Corporate Governance