Last week The Sheriffs Office eviction team carried out a large-scale eviction from a substantial commercial office building at 111 Westminster Bridge Road. The owners had planned to refurbish and let the offices again, but are having to rethink their plans given the extreme level of damage to the property by the squatters.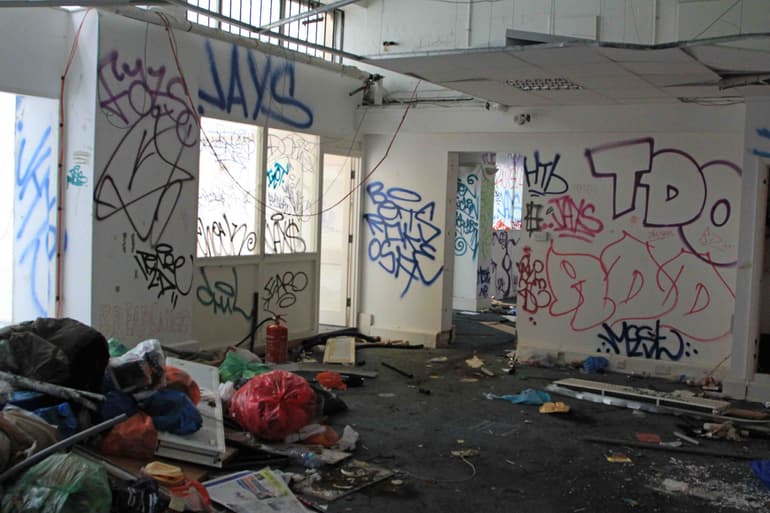 Here is the story of the eviction – with pictures – as it happened.
The week before
An initial risk assessment, which showed that there were 25 to 50 squatters in the building.
It also showed that there was access from within the building to a flat roof.
A full health and safety risk assessment, particularly regarding access to the flat roof and balconies on the 3rd floor, where we found we could gain access via the neighbouring building.
Two meetings with the police to arrange sufficient police assistance for the enforcement officers and to prevent any breach of the peace that might occur on the day of the eviction.
The morning of the eviction – 02:00
Our team of 43 enforcement officers met at our offices for a full briefing on the procedures and approaches that were to be taken to ensure successful execution of the High Court Writ of possession.
We split our enforcement officers into three teams, each with a different role.
04:00
Lambeth Police station for a final police briefing.
Roof team gained access to the neighbouring building so that they would be in position to secure the roof and prevent any squatters gaining access.
05:00
Gained entry to the main door of the premises
The second team went straight to the top floor of the building to allow the roof team entry and to start 'sweeping down' from top to the bottom.
The third team entered at ground level to clear the lower floors and to ensure that the entry to the premises remained secure.
05:00 to 08:30
All squatters – approximately 20 - were removed via the back entrance to the property so as to prevent any disruption on the main road. The eviction was conducted peacefully with only a limited level of resistance.
08:30 to 09:30
Once all the squatters were removed our teams conducted three full sweeps of the building checking every room and cupboard to ensure that all the occupants had been removed.
09:55
Possession of the property was signed over to the client.
Like this? Share it...