Travellers, fly-tipping and hazardous waste
Earlier this month we were instructed to remove travellers from a privately owned light industrial site.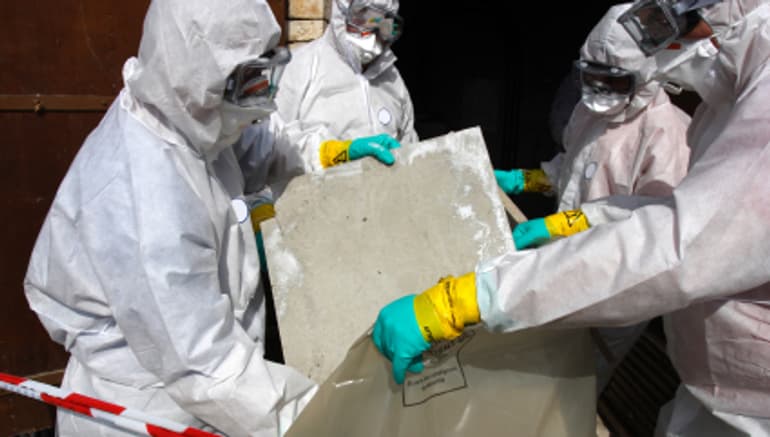 There were just two caravans, but once they had gone, we were taken aback by the sheer volume of rubbish they had left behind, including a significant quantity of grey asbestos, a class 1 carcinogen.
Disposal of asbestos
We thought it very likely that the site was being used for fly-tipping. Due to the hazardous nature of asbestos, Health & Safety Executive (HSE).licenced personnel using specialist breathing equipment must be used to remove and safely dispose of most asbestos-containing material (ACM).
That costs money, which is most probably why the material was fly-tipped on our client's site.
We used specialist contractors to clear the site – you can see some of the images of the mess they had to tackle below.
The scale of the fly-tipping problem
While there is a decreasing trend, fly-tipping remains an expensive problem for local authorities and for private landowners. DEFRA statistics for 2012-2013 shows that there were 711,000 fly-tipping incidents in England alone and that the cost of clearing up to local authorities was £36.4 million.
1% of fly-tipping incidents - over 7,000 – included the dumping of asbestos.
A survey by ENCAMS (Keep Britain Tidy) in 2003 indicated that fly-tipping affects 67% or farmers and is seen as a major problem by over 75% of landowners.
Who pays to clean it up?
Fly-tipping on public land will be cleared and paid for by the local authority. The Environment Agency will get involved with the clearing of major incidents.
But private landowners have to arrange for a contractor to clear the land and then pay for it. If the person responsible is caught and successfully prosecuted, then the landowner may be able to recover the clearance cost from them. Whether such an order would ever be paid is another matter.
Private landowners must dispose of the waste correctly – their local authority or Environment Agency should be able to provide advice.
Prevention
Wherever you can, secure your site so that you can prevent unauthorised vehicles from accessing the site. Many fly-tippers and travellers will be using larger vehicles, so reducing the entrance width may help, or installing gates and barriers if you need lorry access.
CCTV and security guard patrols will help prevent travellers, squatters and fly-tippers from accessing a site where a gate or barrier is not practicable.
The National Fly-tipping Prevention Group (NFTPG) also suggests the following measures to prevent fly-tipping:
Improve the visibility and lighting on the site, so that fly-tippers cannot operate without being seen
Keep areas tidy and remove waste as soon as possible so that others do not view your site as an ideal fly-tipping location
Put up signage advising of the £50,000 penalties if convicted of fly-tipping
Further information
The Environment Agency major incident hotline number is available 24 hours – 0800 80 70 60.
The NFTPG has produced a useful brochure, which you can download here, on the legal aspects of fly-tipping and include many examples of steps taken to reduce incidents.
If you would like any advice on securing your site, please call our Security team on 0333 001 5100.

Like this? Share it...