Transfer up an order for possession
When a landlord needs to remove "persons unknown", for example squatters or trespassers from his property or land, he may need to apply for an order for possession. Sometimes the occupants move on without disputing it. But often they will stay, in which case the landlord will need to take action to enforce the order to remove them.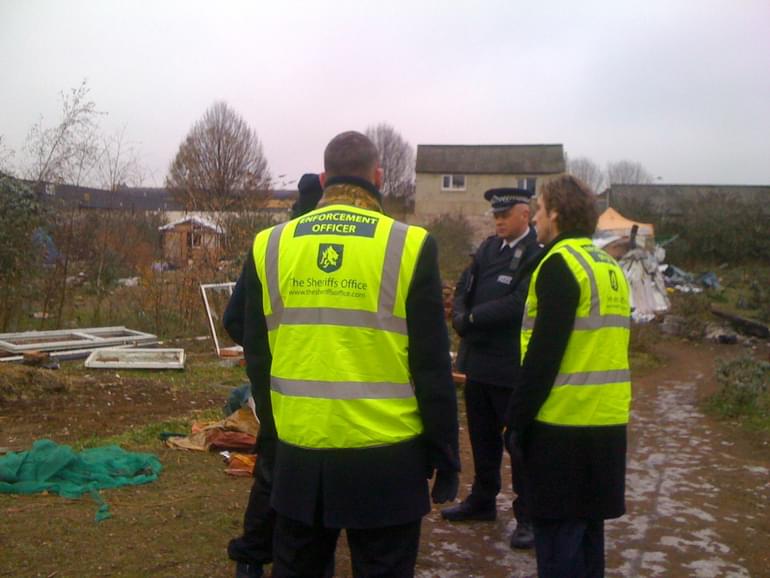 In the case of residential possessions, it is recommended that the possession application also include a request to have it enforced using HCEOs, under Section 42 of the County Courts Act 1984. You can read more about this in my article on Section 42.
Most orders for possession are issued in the County Court local to the property or land. In some circumstances, for example against trespassers where there is a substantial risk of public disturbance or harm to persons or property, the possession claim may be started in the High Court.
Once you have your possession order, you can have it enforced by a County Court Bailiff or an HCEO.
This article is going to look at the procedure for enforcement by an HCEO under a writ of possession. The claimant will need to transfer his order for possession, issued in the County Court, up to the High Court for enforcement.
Transfer up procedure
You must have a final order for possession, not an interim order
Give the tenant notice that you are applying for a writ of possession (RSC Orders 45 and 46), so that he has the opportunity to apply to the court for relief
If money has also been awarded via a judgment or order, this can be added to the writ, so that it becomes a combined writ of possession and control (formerly known as a writ of fieri facias or fi fa)
Apply for the transfer using Form N293A, then send it to the court, or your selected HCEO – most HCEOs will manage the transfer up process on your behalf for no fee
Form N293A is used to apply for both a writ of possession and a combined writ
You will need to also send payment for the court fee, currently £66 payable to HMCTS
In a similar way to the transfer up of a money judgment, the N293A is sent to the County Court that issued the judgment or order for sealing
The writ of possession is then applied for (normally by the HCEO on your behalf) using Form 66A which is sent to the High Court of District Registry for sealing
Enforcement
Once the sealed writ is returned, the process of enforcement can commence. Depending on the circumstances of each case, there may be a need for some advance planning. For example, we had a case recently where the tenant had blocked up some walls, so we took a builder in to enable us to gain access.
In the case of eviction of protesters - such as our recent eviction from the adventure playground in Battersea Park, where protesters wanted to prevent the refurbishment of the playground - we undertook a risk assessment and planned the eviction carefully in advance with the Police and Parks Police.
Once the writ of possession has been executed, the HCEO will endorse the writ, normally by asking the claimant, or their representative, to confirm that they now have possession of the property and/or land.
Commercial tenants
Where a commercial landlord wishes to repossess his property from his tenant, he will normally act under Common Law to forfeit the lease using a Certificated Enforcement Agent – you can read more about this in my article on forfeiture.
Common Law
If a landlord has trespassers on his land, he may use Common Law to remove them. If the landlord is a Local Authority, the Government guidelines recommend they use a writ of possession and not Common Law.
Like this? Share it...