Eviction of trespassers under Common Law
A person or group of people on land without the landowner's permission are deemed to be trespassers.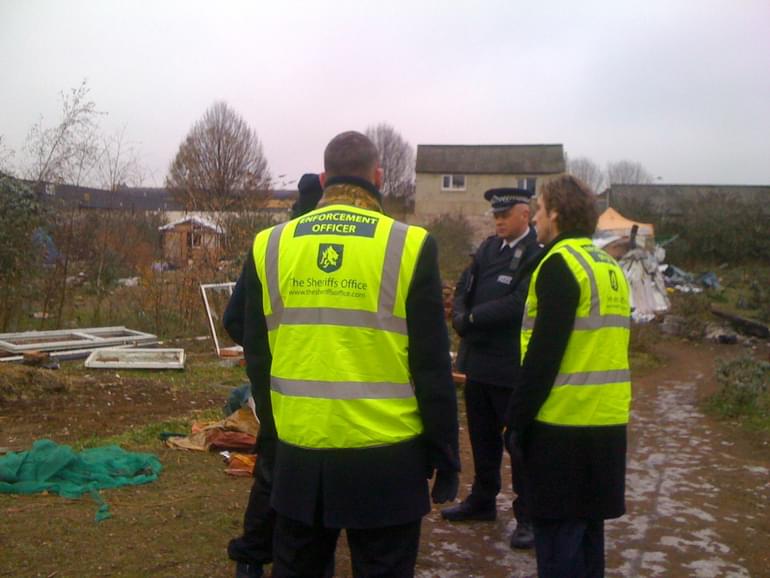 Whilst Government guidance to local authorities is that they seek a court order to remove trespassers from land owned or managed by the local authority, private landowners have more choice. They can still go down the court route of obtaining an order for possession, then transferring it to the High Court to obtain a writ of possession that is enforced by High Court Enforcement Officers, or they can use the ancient remedy of Common Law.
In fact, the landowner can obtain a court order and still choose to remove the trespassers under Common Law. Halsburys Laws of England (Paragraph 1400, Volume 45, 4th Edition) state that:
"If a trespasser peaceably enters or is on land, the person who is in or entitled to possession may request him to leave, and if he refuses to leave, remove him from the land using no more force than is reasonably necessary. This right is not ousted if the person entitled to possession has succeeded in an action at law for possession but chooses not to sue out his Writ."
Use of force
The landlord must first ask the trespasser to leave his land. If he refuses, the landowner can then remove the trespassers "using no more force than is reasonably necessary".
However, if the trespasser enters with force and violence, then the landowner can remove them without having previously asked them to leave.
Certificated Bailiffs
Whilst the landowner can conduct the eviction himself, in most cases the landowner or his agent will instruct a Certificated Bailiff to conduct the eviction.
The advantages of this are that the Certificated Bailiff will know the relevant law and procedure and will act within those laws. He will also know how to conduct a risk assessment and follow health and safety procedure before and during the eviction. Finally, he will have the necessary resources and manpower available to conduct the eviction.
Police involvement
The Department for Communities and Local Government (formerly The Office of the Deputy Prime Minister or ODPM) Guidance on Managing Unauthorised Camping (February 2004) advises that the police should always be notified of an eviction and called in to stand by to prevent a breach of the peace, and that, if the police advise that it is inappropriate to carry out an eviction, it should always be delayed until an agreed time. A landowner who proceeds against police advice might lay himself or herself open to a damages claim if the eviction then resulted in assault, injury or damage to person or property.
Under s61 of the Criminal Justice and Public Order Act 1994, the police can, at their discretion, tell trespassers to leave land as long as reasonable steps have been taken by or on behalf of the landowner to ask them to leave and there are two or more people intending to reside on the land. Any one of three further conditions must be met:
if any of those persons has caused damage to the land or to property on the land; or
used threatening, abusive or insulting words or behaviour towards the occupier, a member of his family or an employee or agent of his; or
those persons have between them six or more vehicles on the land
Like this? Share it...