Eviction from land – huts, hounds and HIV
Earlier this week we evicted a number of squatters from land under a High Court writ of possession.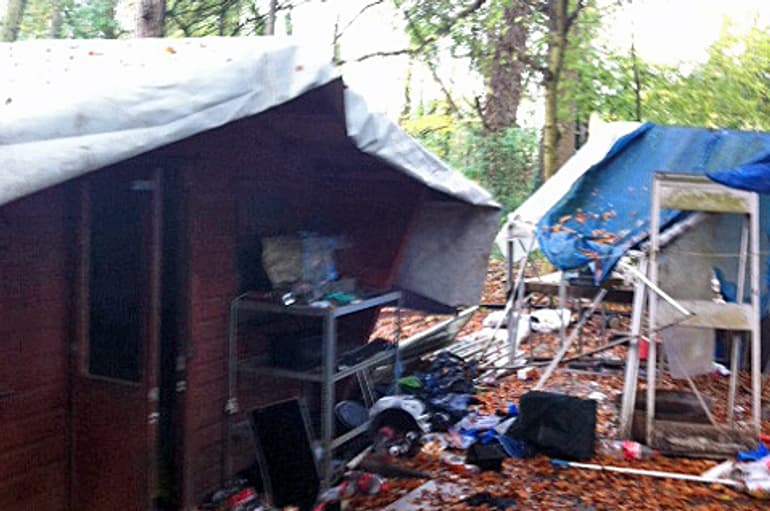 The occupants and their dogs had occupied land belonging to the local Council and were living in prefabricated wooden huts on site.
The eviction
The eviction had the potential to be quite complex, with a number of possible issues that came up during the risk assessment and planning process. These included:
Trees and other structures that could be climbed by the occupants, who might then lock themselves onto these
Dogs on site, including one that was registered as a dangerous dog
Human and animal waste on site
One of the occupants was known to be HEP B and HIV Positive
We arrived with a team of enforcement agents, police officers and a specialist rope access/lock-on release team.
The occupants had been made aware of the writ, and in fact some had already left and the others were getting ready to go – so all went smoothly and peaceably.
The site was cleared, with the temporary buildings demolished and any remaining personal possessions bagged up for collection by the occupants by the end of the day.
Repossession of land under a High Court writ
The first stage of the process is to obtain an order for possession against "persons unknown". The claim will normally start in the County Court, although in some instances it may start in the High Court – you can read more in this article.
Once the order is made, you can apply to transfer it to the High Court for enforcement by a High Court Enforcement Officer (HCEO) under a writ of possession. You do NOT need to obtain permission from the court to transfer up the order for possession against persons unknown.
Once the writ is issued, the HCEO will arrange for the eviction to take place as soon as possible. We would normally advise conducting a risk assessment, as we did in this case, to ensure that potential issues are identified and planned for, so that the right specialists and equipment are on hand if needed. When you are dealing with protesters and activists, this is always the preferred approach.
Local authorities will normally obtain a court order for evictions, rather than using common law. They are not legally obliged to use a court order, but Government advice recommends them to do so.
Repossession of land under common law
Under common law, the landowner can instruct certificated enforcement agents (previously called certificated bailiffs) who will serve eviction notices, giving a maximum of 24 hours to vacate the site. They will return to site the following day to remove the occupants if they have not already gone.
A court order is not required under common law.
Like this? Share it...