Sieges, barricades and wars of attrition from "The Sheriffs Are Coming"
BBC One's award winning "The Sheriffs Are Coming" is back at 7 pm on 4th August!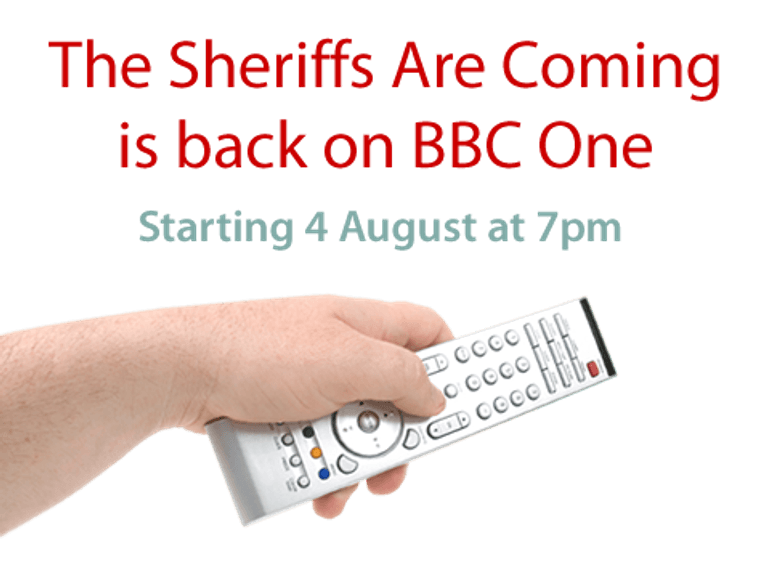 A stand-off with squatters who have jammed the locks and shutters from the inside.
Unauthorised branded merchandising of 1980s children's hit show "Button Moon".
A dentist owing investors £7 million barricades himself in his surgery.
A five hour "war of attrition" with a car dealership.
Third degree burns, a serious infection and permanent scarring after a tattoo removal went seriously wrong.
All these cases, and more, are shown in the new series of BBC One's series "The Sheriffs Are Coming", winner at the Broadcast Awards 2014, broadcast on BBC One at 7 pm on these dates:
Episode 1 - Monday 4th August
Episode 2 - Wednesday 6th August
Episode 3 - Friday 8th August
Episode 4 – to be confirmed
Each 60 minute episode follows the work of High Court Enforcement Officers, known since Saxon times as Sheriffs Officers, as they travel across the country attempting to recover court judgments on behalf of their clients.
These clients include individuals, like Lucy left with third degree burns, as well as businesses and their solicitors who have won court judgments, but have still not been paid.
After transferring their judgments to the High Court for enforcement, they've turned to Croydon-based firm "The Sheriffs Office", to get them their money back under the writ that authorises them to seize goods. The only way the debtor can stop them is to pay what they owe.
As they battle against sieges, barricades and debtors who will do all they can to avoid paying what a judge says they owe, find out if The Sheriffs Office can help people in their hour of need.
Like this? Share it...