BBC One's "The Sheriffs Are Coming" returns for a new series on 13th January
"The Sheriffs are Coming" is a hit BBC One series, shortlisted for the Broadcast Awards 2014, and is back for a 3rd series of ten 45 minutes episodes, starting on Monday January 13th at 11:00.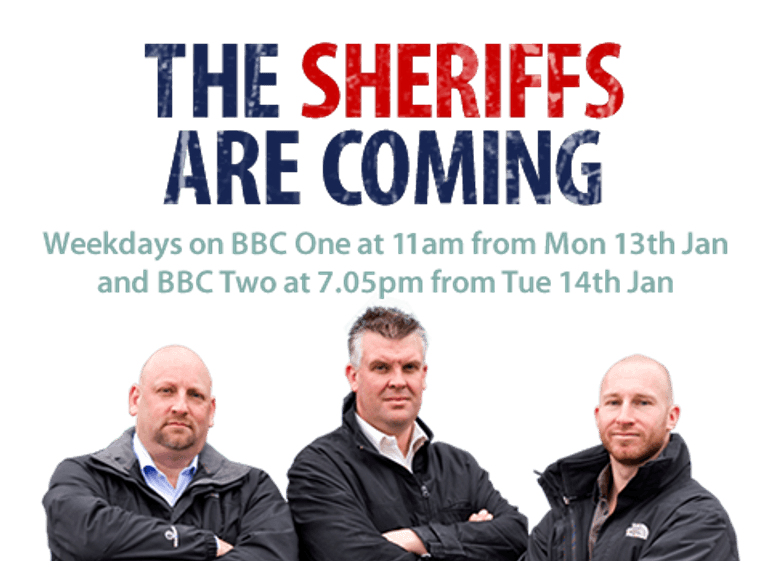 When left with third degree burns, a serious infection and permanent scarring after a tattoo removal went seriously wrong, Lucy Houghton went to court and won her case against the Halifax beauty salon. But when she wasn't paid, Lucy turned to The Sheriffs for help.
The series follows the work of High Court Enforcement Officers, known since Saxon times as Sheriffs Officers, as they travel across the country attempting to recover court judgments on behalf of their clients.
The clients include individuals, like Lucy, as well as businesses and their solicitors who have won court judgments, but have not been paid.
After transferring their judgments to the High Court for enforcement, they've turned to Croydon-based firm 'The Sheriffs Office', to get them their money back under the writ that authorises them to seize goods. The only way the debtor can stop them is to pay what they owe.
Can they help Lucy put her ordeal behind her?
Other series highlights include:
A case against a private ambulance company in Morden Surrey, brought by former Gulf War army medic Alan, who was owed almost a year's wages.
Several visits to airlines to enforce unpaid compensation claims judgments against airlines for flight delays under the recently introduced EU legislation.
A five hour stand-off at a Bristol car dealership which had left BMW owner Mohammed several thousand pounds out of pocket and without a car for over 6 months.
A building in Greenwich where the squatters had barricaded themselves inside.
A secretive meeting with the boss of a roofing company under a bridge in Cumbria.
A debtor with multiple identities but similar signatures in Portsmouth.
And a visit to a tissue manufacturing company in Wolverhampton, who hadn't paid a supplier for machinery. Will those tissues be needed for tears of joy or frustration?
The role of High Court enforcement
David Carter, CEO of The Sheriffs Office says:
"People assume that winning a judgment against a debtor automatically means they will get paid what they're owed. They've been awarded their judgments fair and square in the Courts and our job is to make sure that these are enforced and our clients are given back what they are owed."
Like this? Share it...